Celebrating Women's History Month
In honor of Women's History Month, we would like to celebrate 10 of the most influential women in the history of sports. Their spirit and commitment not only helped them achieve greatness, it also helped open doors and smash ceilings for those who followed. In no particular order, here are 10 women who broke barriers in sports and changed the game, creating a path for all female athletes.
Pat Summitt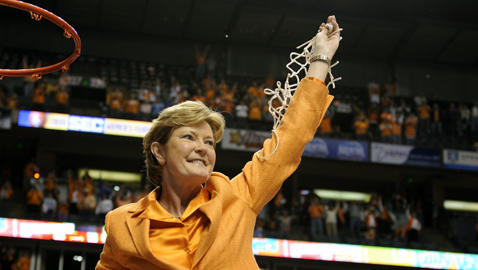 Summitt became the head coach of the Lady Vols in 1974 at the age of 22 and represented the United States as a player in the 1976 Olympics, the first that recognized women's basketball. During Summitt's first season as head coach, the Lady Vols finished with a winning record, all while she continued her master's degree studies. She was the head coach of the U.S. Women's National Team when it won Olympic gold in 1984.
Bio courtesy of NPR.
Babe Didrikson Zaharias
To this day, she is still the only track and field athlete, male or female, to win individual Olympic medals in running, throwing and jumping events. Her previous success in other sports led the United States Golf Association (USGA) to bar Zaharias from playing in amateur women's tournaments, compelling her instead to play in professional men's PGA Tour events. Babe not only helped transform golf from a predominantly amateur sport into a professional one, but also held multiple Olympic world records. As well as being one of the 13 founding members of the Ladies Professional Golf Association (LPGA) in 1950, she went on to win 14 consecutive tournaments at the peak of her career.
Bio courtesy of CNN.
Florence Griffith Joyner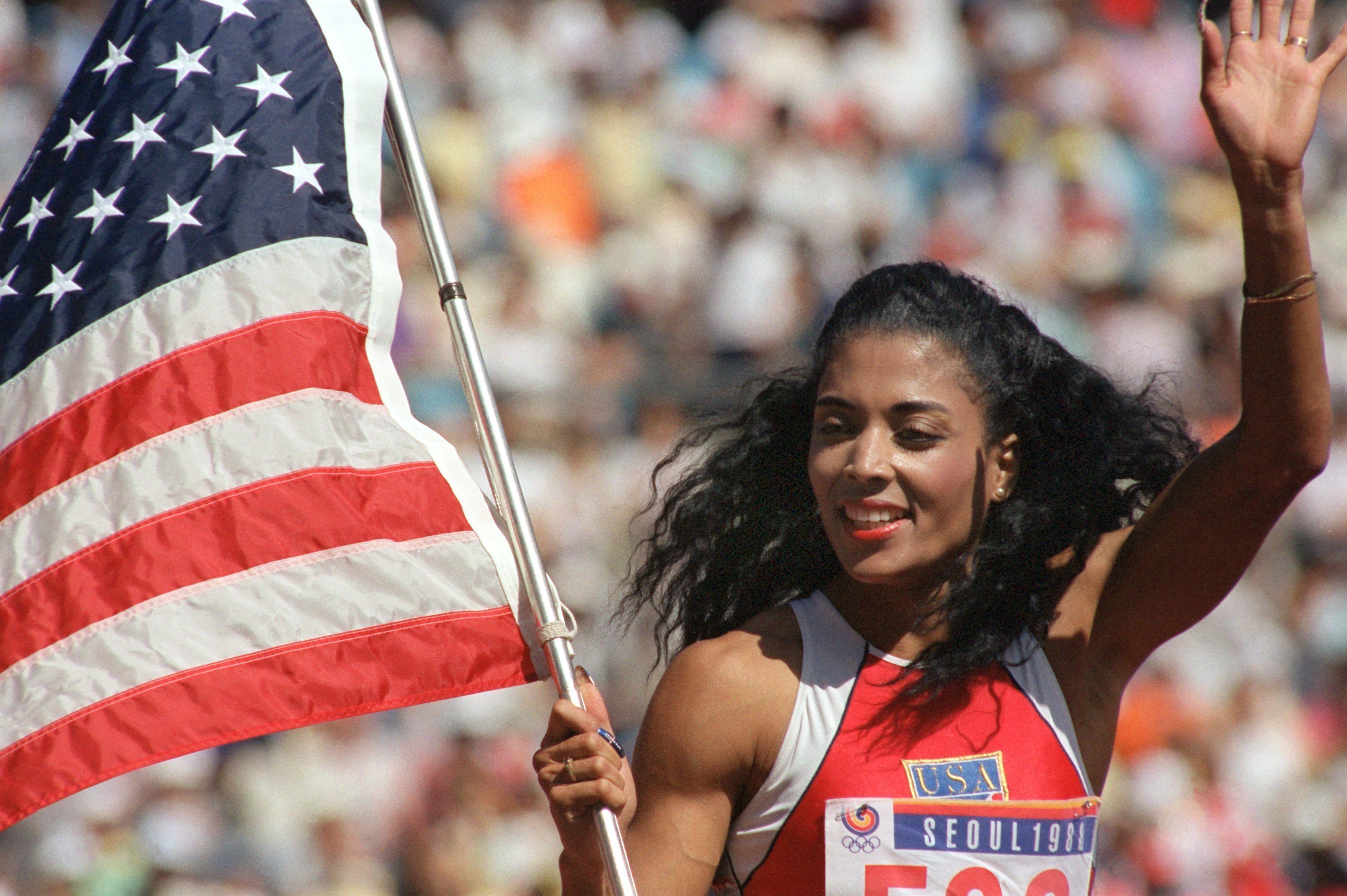 Known by a single name – Flo-Jo- Florence Griffith Joyner remains the fastest woman in history. At the 1988 U.S. Olympic trials in Indianapolis, Griffith Joyner ran the 100 m in 10.49 sec., a world record that still stands. "Cannot be," an announcer said after the race. "No one can run that fast." At the Seoul Olympics that September, Griffith Joyner won gold in the 100 m, 200 m and 4 x 100 relay, and set a 200-m world record of 21.34 sec. that's yet to be broken.
Bio courtesy of TIME.
Gertrude Ederle
In the early 1920's, as a competitive swimmer, she set women's world freestyle records and American freestyle records for various distances from 100 to 800 meters. Between 1921 and 1925, she held 29 amateur national and world records. In 1924, she was a member of the United States Olympics team and won a gold medal as part of the 400-meter freestyle relay, and bronze medals in the 100 and 400 individual freestyle events. On August 6, 1926, shortly after 7 AM, Ederle, smeared with sheep grease, waded into the English Channel at Cape Gris-Nez, France. Fourteen hours 31 minutes later, a world record, Ederle reached Kingsdown on the English coast, becoming the first woman to swim across the English Channel.
Bio courtesy of the NY Times.
Serena Williams

After winning the 2003 Australian Open, Serena Williams became just the fifth woman in tennis history to hold the titles of all four Grand Slam tournaments—the Australian Open, the French Open, Wimbledon and the U.S. Open—at the same time. Williams was just 21 years old. Nearly two decades and 23 major titles—a record for the Open era—later, she has more clout than ever. In her decades of greatness, Williams has inspired a new generation of tennis talent. She has not only taken women's tennis to new heights; she has secured her legacy in the generations that will follow her. Williams, who has been playing professional tennis since 1995, has won 73 singles titles, 23 doubles titles and four Olympic gold medals.
Bio courtesy of TIME.
Nadia Comăneci

Nadia Comaneci competed during the 1976 and 1980 Summer Olympics in gymnastics and is credited with bringing attention to the sport worldwide. At just 14, the Romanian gymnast scored a "perfect 10" on the uneven bars in the team part of the gymnastics at the 1976 Montreal Olympic Games, and even the scoreboard didn't know what to do: it wasn't able to display the four digits needed to show a row of 10.00s, because nobody had even conceived that it was possible. On the beam, she was the first gymnast to perform an aerial walkover and an aerial cartwheel-back handspring flight series. She also debuted the double twist dismount – and the double back salto on the floor.In two Olympics, Comaneci had nine perfect 10s. She won nine Olympic medals and four World Artistic Gymnastics Championship medals.
Bio courtesy of the Olympic Channel.
Mia Hamm

Mia Hamm was the youngest woman to ever appear in a match for the US Senior Squad at just 15 years old in 1987, and during her illustrious career playing for the national team shattered a litany of American records, most notably those for international goals (158) and assists (144). Among her other accolades, Hamm was twice awarded the ESPY for Female Athlete of the Year (1998 and '99) and was twice named FIFA Women's Player of the Year (2001 and '02). She was one of only two women named by Pele to FIFA's best 125 players in 2004 and in 2007 was elected to the National Soccer Hall of Fame. After 17 years, two World Championships, two Olympic Gold Medals, Mia Hamm retired from professional soccer in 2004.
Bio courtesy of the Mia Foundation.
Janet Guthrie
Janet Guthrie never set out to be a pioneer or trailblazer. All she wanted to be was a race car driver and to be judged solely on her merits behind the wheel. Guthrie achieved a number of firsts in her career, with the most notable year of her life being 1977 when she became the first woman to compete in both the Daytona 500 (finished 12th and was named the race's top rookie) and the Indianapolis 500. After competing in 31 NASCAR races between 1976-78, Guthrie couldn't get a ride and was forced to sit out the 1979 season. She returned for two final starts in 1980, including being Dale Earnhardt's teammate in that year's Daytona 500 – he finished fourth, she was 11th.
Bio courtesy of NBC Sports.
Billie Jean King
Billie Jean King remains one of the most illustrious players in tennis history. She won 71 singles and 21 doubles titles, including a record 20 Wimbledon titles. She achieved the world's highest ranking five times between 1966 and 1972 and held a place in the top 10 for a total of 17 years. In 1973, she defeated Bobby Riggs in straight sets to win the landmark "Battle of the Sexes" match. King also coached the Olympic gold-medal-winning 1996 and 2000 U.S. women's tennis teams and captained the U.S. Fed Cup team from 1995 to 1996 and from 1998 to 2003, leading the United States to the title in 1999 and 2000. Retiring from the sport in 1983, King remains one of only eight women to have won a singles title in each of the four Grand Slam tournaments.
Bio courtesy of the Women's Sports Foundation.
Lindsey Vonn
Lindsey Vonn brought her sporting career to an end on 10 February 2019, competing at her eighth World Championship in Åre, Sweden, taking a bronze in the downhill. During the 15 years she competed at the highest level, she established herself as one of Alpine skiing's all-time greats. At Vancouver 2010 she became the USA's first ever women's downhill Olympic champion and won the Gold medal. Lindsey Vonn is one of only two female skiers to win four World Cup overall championships. She won three consecutive titles from 2008-10 and another in 2012. She is also one of six women to win a World Cup race in all five disciplines of alpine skiing. She set a number of new records for women, including a 82 World Cup victories, as well as several for men and women, including a record 18 victories on the same course (Lake Louise), 20 crystal globes and 43 downhill victories.
Bio courtesy of Olympic.org.